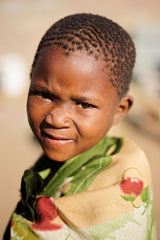 A portrait of a young African boy, with a colorful cloth draped around his shoulders. Come explore the wonders of Africa, including the island groups, the desert, the Mediterranean Sea, and the rainforest regions. Enjoy African art and culture, and see remarkable native animals on safari including lions, elephants, giraffes, and zebras. Enjoy traditional African dishes such as chapatti, couscous, and groundnut stew. Many different airlines travel to Africa from various United States cities, and visitors to the African continent can choose from a broad spectrum of lodging options.
Search Results
---
Use the search box on this page to find information about Africa.
Copyright © 2010-2022 Map-of-Africa.us.
All rights reserved.

Map of Africa - Custom Search Results